Convenient for carrying every bit that you need to do your job efficiently from basic repair purposes around the home to heavy-duty construction needs! Multi-angle Ratchet Screwdriver is a life-saving tool that you want to keep, and a great tool for everyone!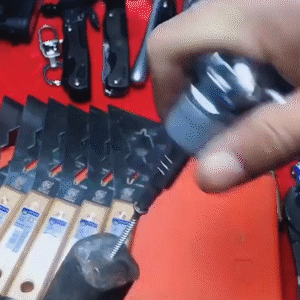 Universal Ratchet Tool
Fix the screwdriver bit on the screw, and the handle rotates back and forth continuously without any pause during the period. It can quickly tighten or loosen the screw.


Rotary Multi-Angle
The angle between the screwdriver working rod and the handle can be changed from 0 to 180 degrees, which can be used in small spaces. The angle is the most labor-saving at 180 degrees.


Multi-purpose Built-in Screw Bits
15 different types of screwdriver heads, It can be used most needs in family life.


3-way Fine Ratcheting Gear
It allows three rotation options: fix, tighten, and loosen. The spin direction can be changed easily and it stays perfectly locked during operations, no need to worry about accidentally touching the ratchet lock.


Ergonomically Designed Handle
Non-slip outside, push-pull design inside, allows significant torque, and you can maintain a firm grip on it, let the user easily driving or removing screws bit.


Uses:
Kitchen Appliances / Sports Goods / Mechanical Equipment / Construction / Home Decoration
Package Includes:
1 × Screwdriver Kit (15 In 1)